How to remove embroidery
By
Julie
on September 2nd, 2019
This site contains affiliate links to products. We may receive a commission for purchases made through these links.
We've already established the fact here that every machine embroidery enthusiast makes mistakes. And when the mistake is really bad, sometimes the best solution is to rip out your stitches and start again. But if you're new to this game (or you have never made a mistake), you're probably wondering how to remove embroidery.
Is it worth it to remove the embroidery?
Before you start tearing out your stitches, you need to ask yourself if it is really worth it to remove the embroidery. Sometimes the item you are stitching on is replaceable with a couple of dollars, and your time is certainly worth much more than that.
Oftentimes, in the spirit of being resourceful and not wanting to throw something away, I start tearing out stitches without carefully considering the cost/benefit factor of my actions. Ripping out embroidery can be quite tedious and, (at least in my experience), it takes much longer than I ever expect. This seems to be a sentiment echoed by my fellow machine embroidery enthusiasts.
What should I charge to remove embroidery?
Many embroidery professionals will not offer the service of removing embroidery, simply because removing stitches can be tedious and not always deliver the best results.  When removing stitches, it's too easy to make one wrong move and rip a hole in the garment.
One experienced embroiderer told me she feels so confident in her removal skills that she will do it for $12 – $15. However, she will only take on the project if she feels like she will have good results after removing the embroidery.
Her attitudes seems to be in the minority, because it seems MANY embroidery shop owners say there is no amount of money that a customer could pay to get them to remove old embroidery.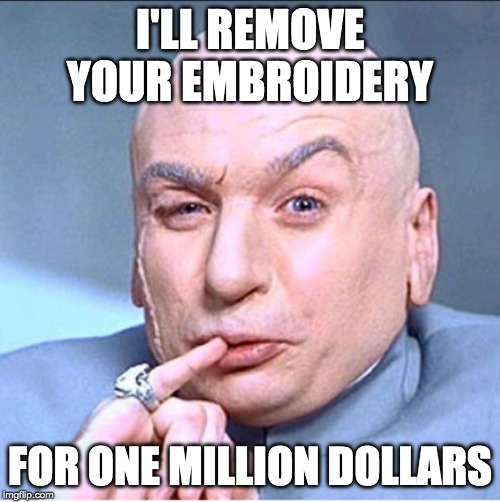 Can different types of embroidery be removed more easily than others?
Yes! Definitely! But, it depends on the type of stitching and the material you have stitched on.
A couple of years ago I embroidered on some very thin Turkish beach towels to give to my mom as a gift (which turned out very cute by the way). But, of course, I messed up one of them. When I attempted to remove the stitches, I tore big holes in the towels.  The embroidery was nearly impossible to remove because the towel material was so thin and the lettering was very small.
Large, satin stitch letters on very durable fabrics are the easiest to remove. If you have nothing to lose, it's worth a try.
What tools should I use to remove embroidery?
As a rule – you should always start removing the embroidery from the back of the embroidered object.  Then pull or brush off the stitches from the front.  Just take your time, and be gentle. It's easy to get a hole in your fabric when you are trying to remove the embroidery.
There are a number of tools that can be used in combination that can be used to remove embroidery.
What if I create a hole in my fabric while removing the embroidery?
Keep in mind that if you do get a hole in your fabric when trying to remove the embroidery – all is not lost. You can use different embroidery and appliqué techniques to patch a hole.
In fact, there are some crazy people out there who think it's fun to "repair" clothing by embroidering over a hole.  If you secure some cut away stabilizer to the back of the garment, you can embroidery on top and the hole is no longer visible.
One lady I know likes to embroider over moth-eaten wool sweaters, cigarette burns, and holes on favorite sweatshirts and windbreakers. Clothing with holes, tears and stains is often discounted at stores and thrift shops which can present a fun challenge to fix with embroidery.
Another way to fix a hole is to appliqué over the damaged area. In some cases you do not not even need to remove the stitches in order to appliqué over the top.  And, if you are really feeling lazy, you can simply iron on a patch to cover the unwanted stitches.
Can you REALLY remove embroidery?  I'd like to see how you do it.
Sure! Not a problem.  I actually made this video demonstrating how I removed the embroidery from my daughter's backpack. I used a combination of a seam ripper and Peggy's Stitch Eraser. It was not a problem taking out these stitches but the backpack is so old that the fabric had faded around wear the stitches. So, once I removed the embroidery, the shadows of the letters were still visible. I think that if I stitched a new name on top, this shadow would hardly be noticeable and eventually face away.
You will see in the video that the stitches came out very easily. This was due to the fact that the backpack fabric is very durable and the letters were quite large so it was easy to rip the stitches.
Enjoy the video and happy stitching!
Julie
Quick Shopping Links – Tools for Removing Embroidery